I've been enjoying playing with Stable Diffusion, an AI image generator that came out this past week. It runs phenomenally on my M1 Max Macbook Pro with 64GB of RAM, taking only about 30 seconds to produce an image at standard settings.
AI image generation has been a controversial, but exciting, topic in the news as of late. I've been following it with interest, but thought I was still years off from being able to actually play with it on my own hardware. That all changed this week.
I'm on day two now with Stable Diffusion, having successfully installed the M1 support via a fork. And my topic to get my feet wet has been…
Chickens.
Why not.
So let's begin our tour. I'll provide prompts and pictures, but please not I do not have the seeds (due to a bug with seed stability in the M1 fork).
"Look Both Ways Before Crossing the Road"
I recently became a fan of the late Leonid Afremov. His paintings really called to me, and I'm in danger of buying a whole lot of prints. I was curious what I could make Stable Diffusion do in his art style, and got quite a lot of good images as a result.
Prompt: chickens, leonid afremov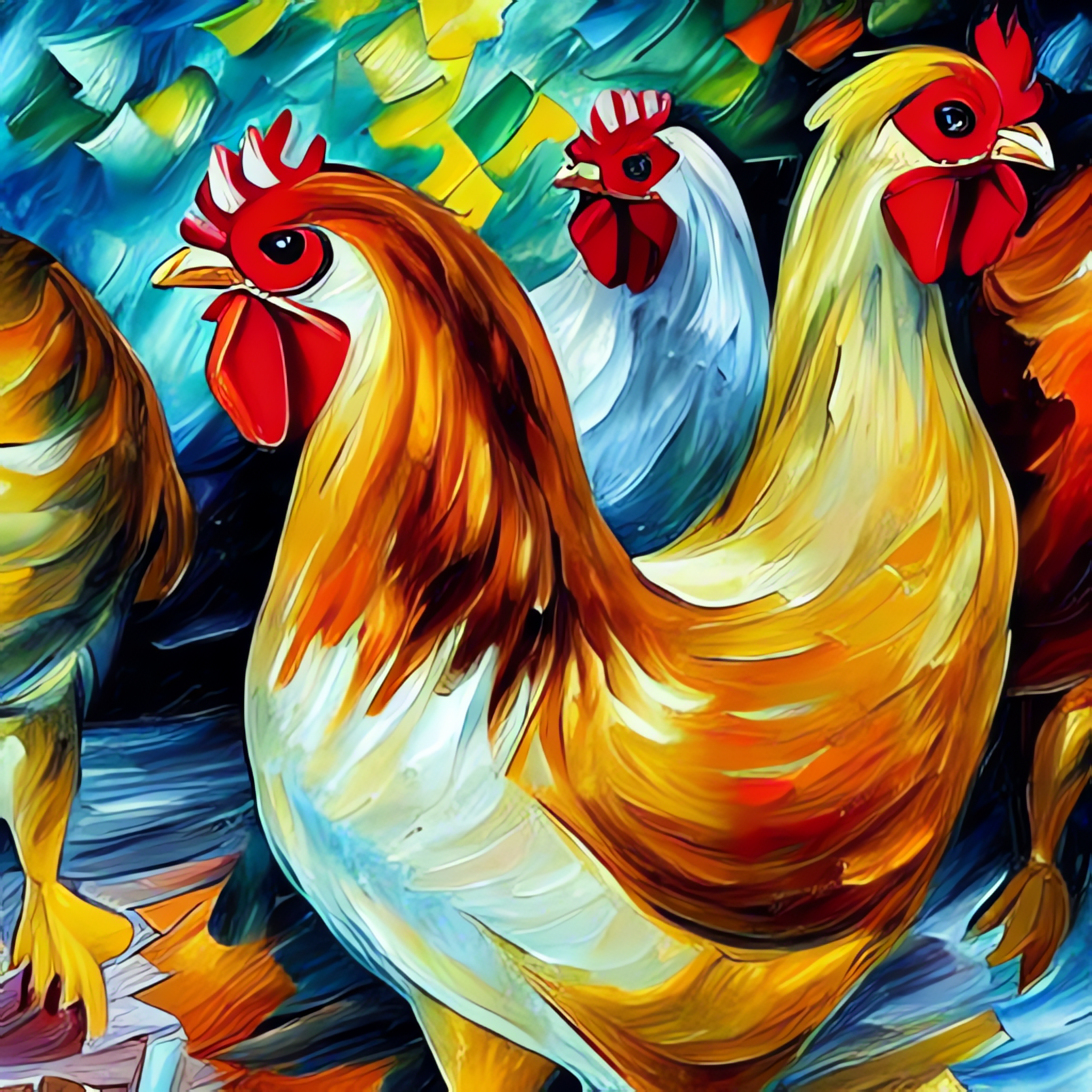 "Living the Tuscan Chicken Life"
Decided to continue with some fine art, trying other artists in my prompt. Most didn't go the way I had hoped, but I loved this particular image.
Prompt: paintings of chickens in tuscany, eugene j paproski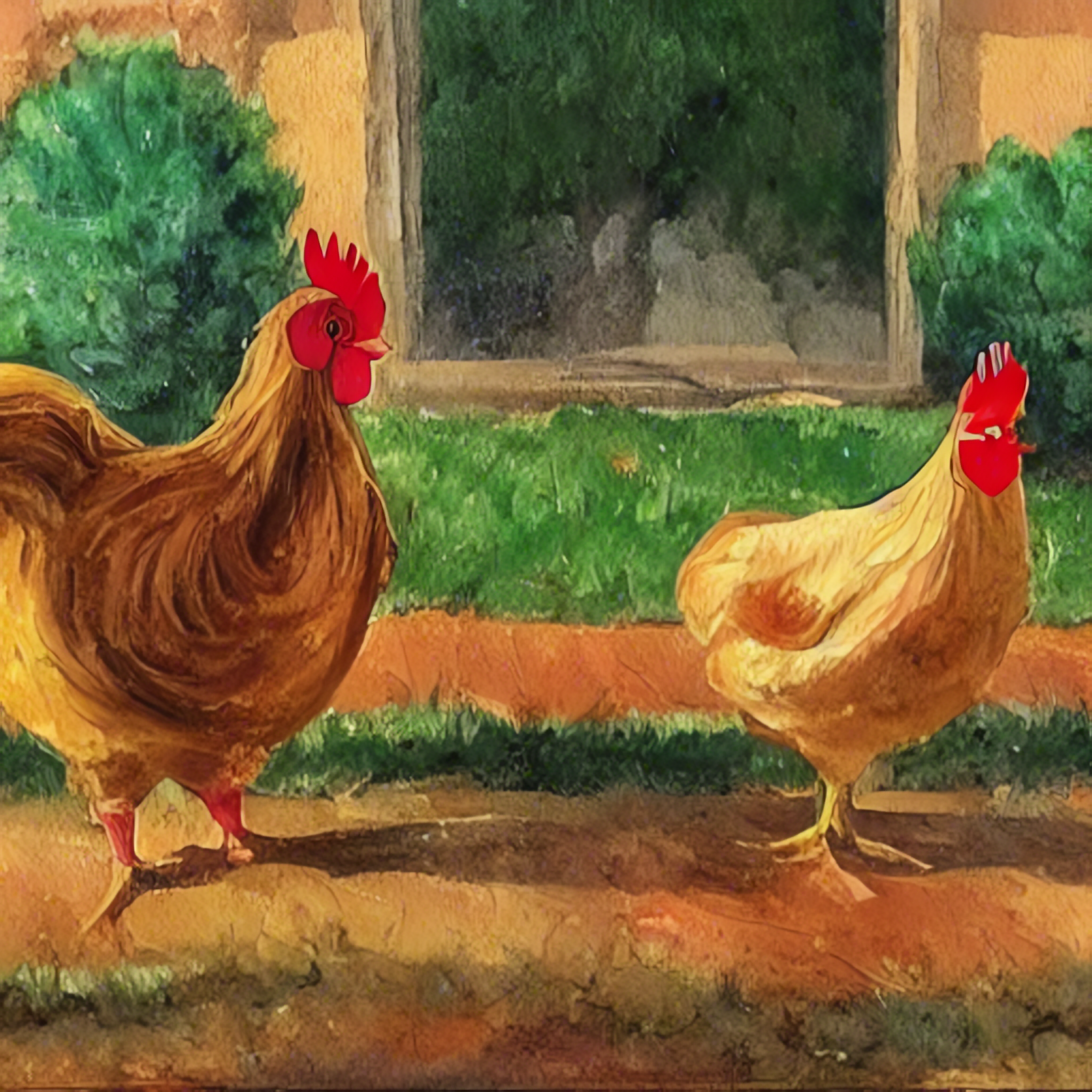 "The Chickens Conspire at Midnight"
Next I decided to try watercolor. Honestly, not as many good results as I liked, but this one I thought was fun. What are they doing at night in the park?
Prompt: watercolor chickens on a grassy hillside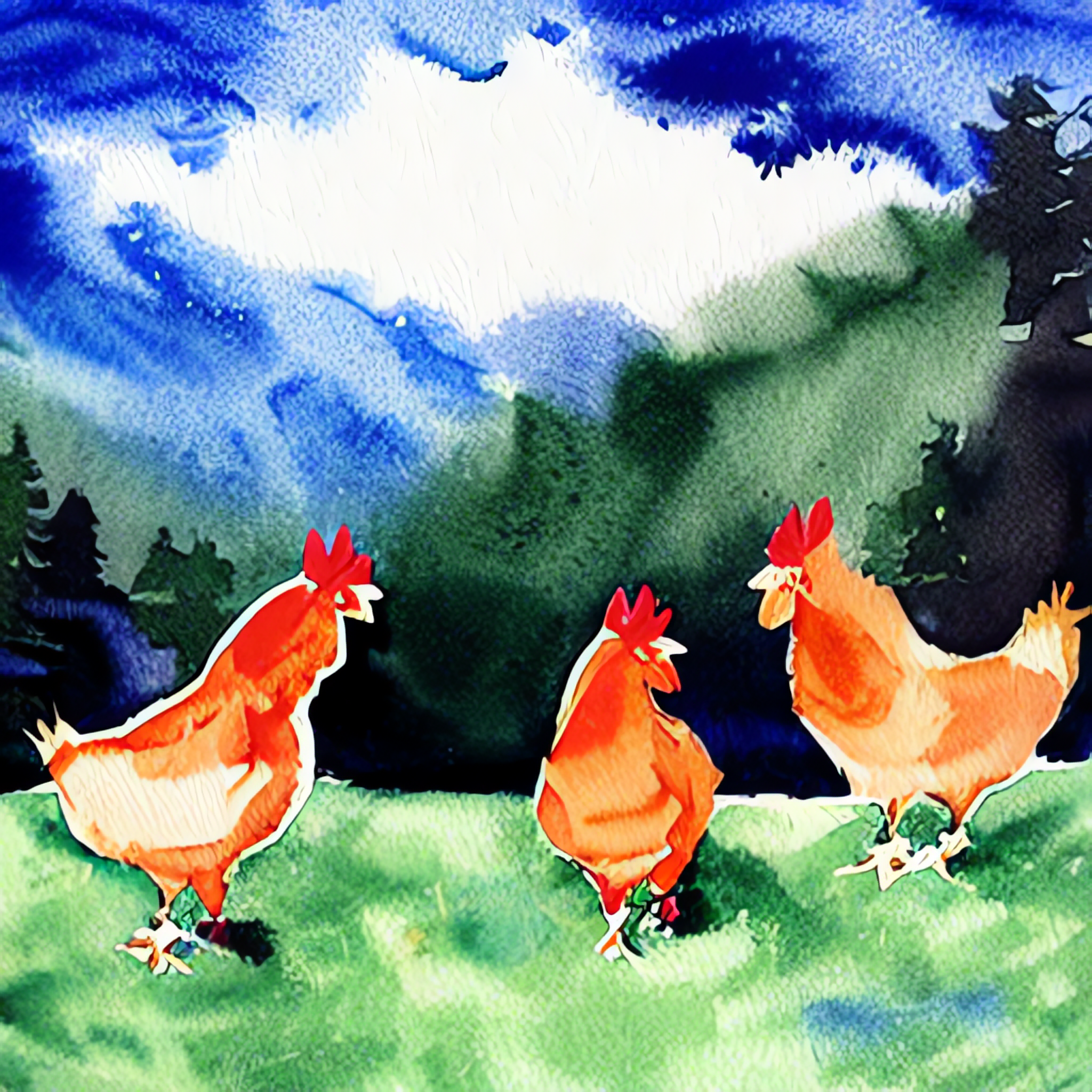 "The Elegance and Grace of the Chicken"
Let me tell you, this thing can do sculptures. Try it. I got so many good results out of this one, with this being my absolute favorite of the bunch.
Prompt: roman white marble of bronze elegant chicken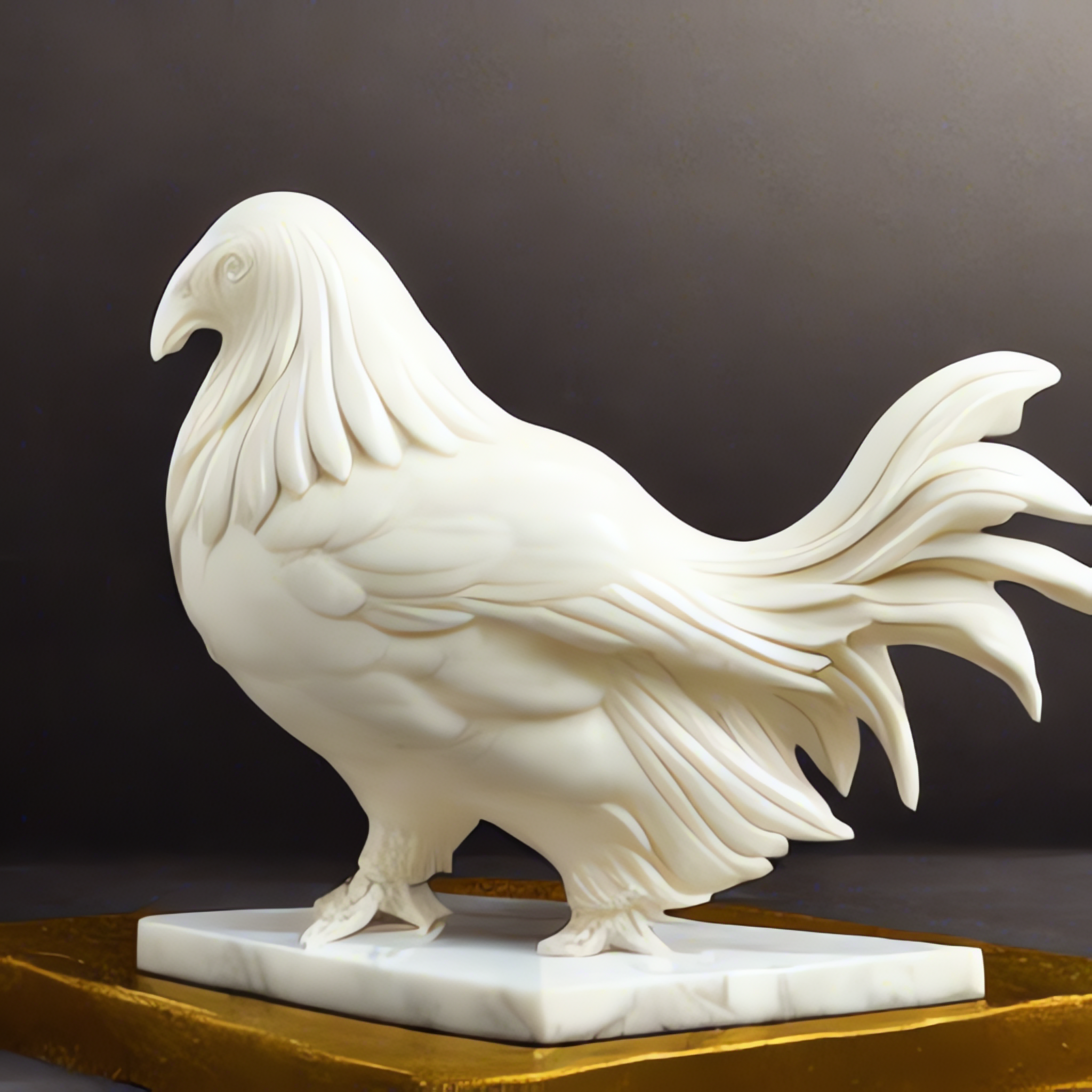 "There's One In Every Family…"
Yeah maybe done't feed this one after midnight. I went through a lot of variations of this prompt, generated a lot of images, but this was the first to really make me laugh. That poor momma chicken.
Prompt: 3d pixar illustration of baby chicks hatching in a nest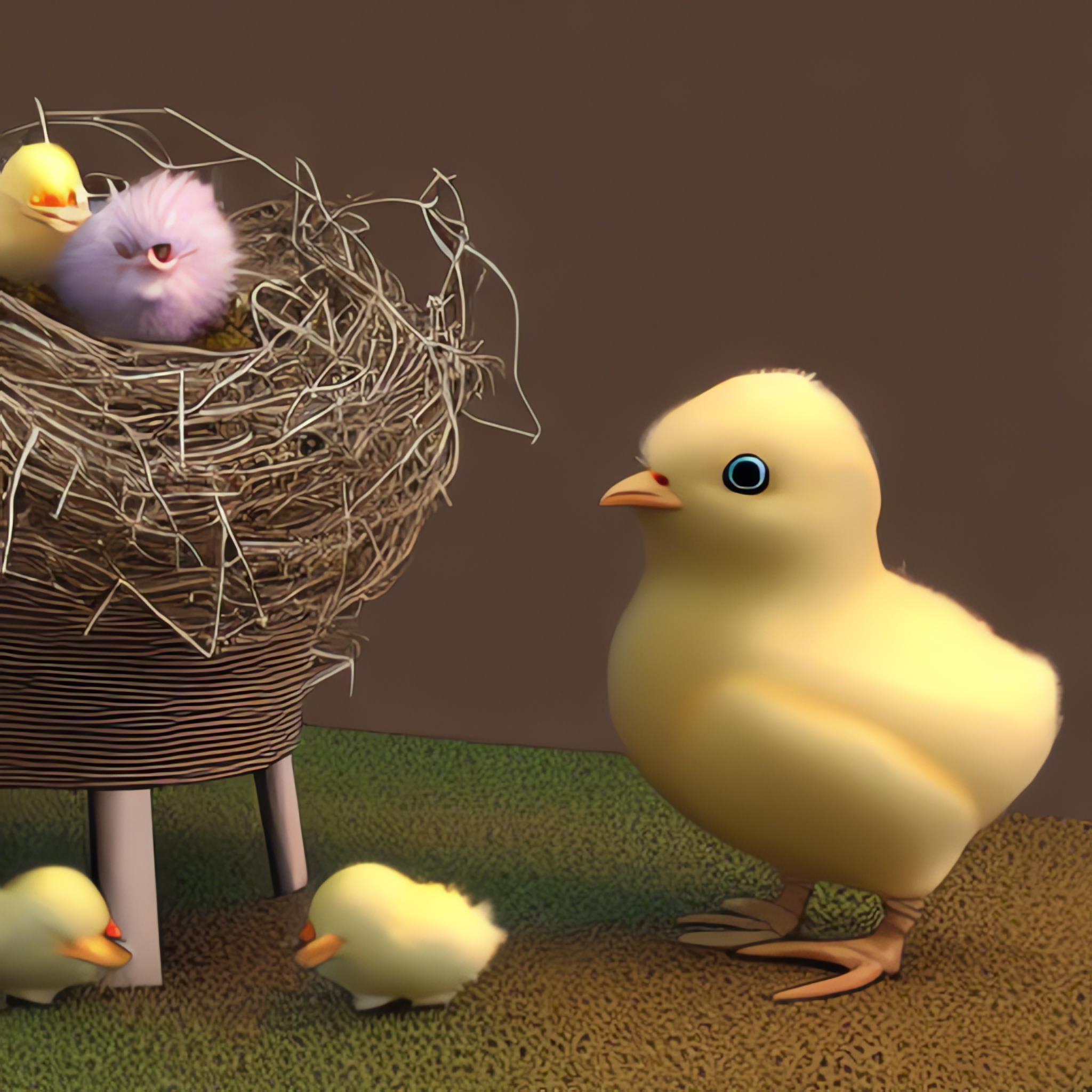 "I Enjoy Long Walks on the Beach"
Back to another artist. I actually got some good results from Thomas Kinkade, many centered around farmlands, but then I tried to mix it up a bit. This one was my favorite of the bunch.
I'd love to be on the beach right now.
Prompt: painting of two chickens gazing over the ocean at sunset, thomas kinkade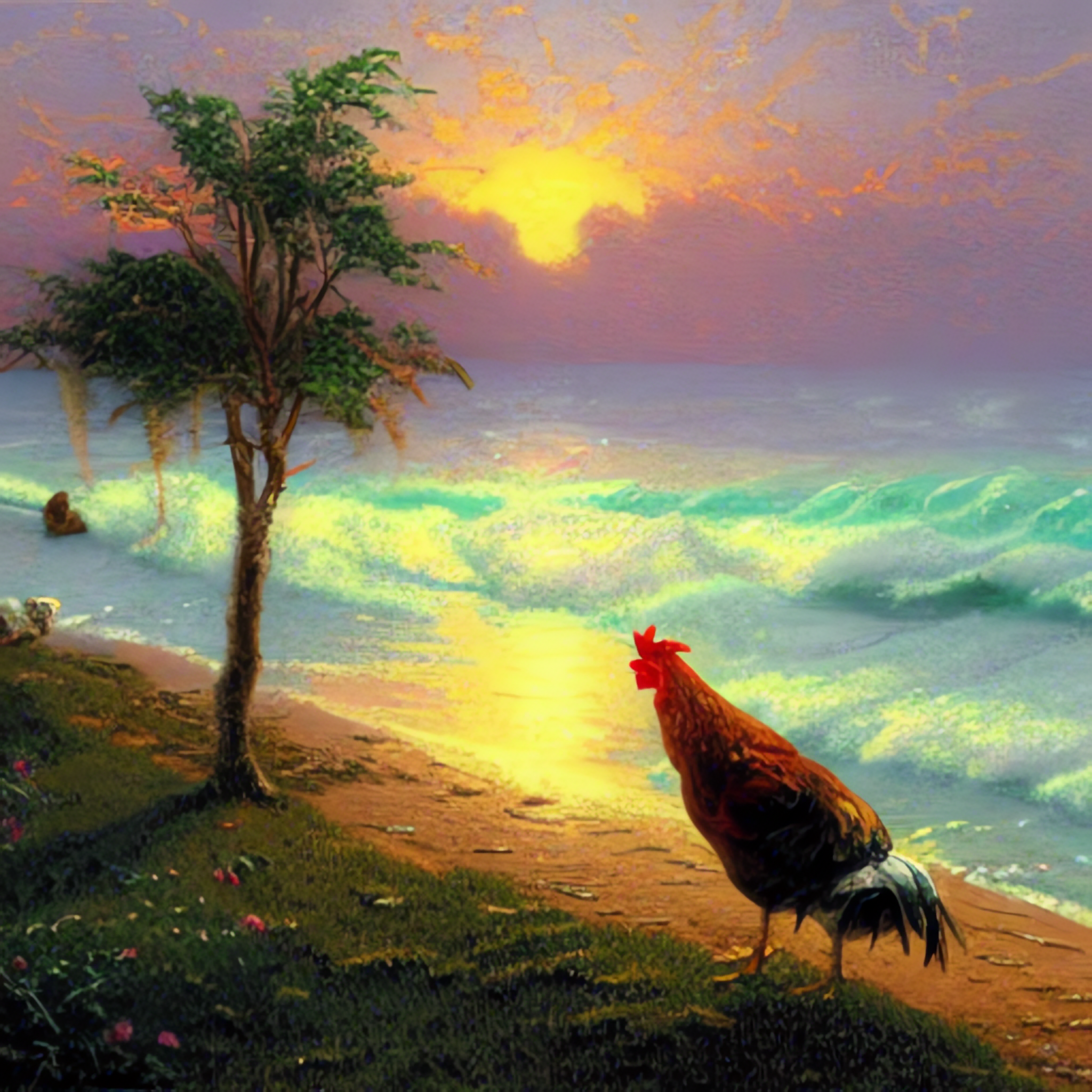 "Limited-Edition Lego Chicken Minifigs"
I decided to see if this could make Lego chickens. Now, making models out of Lego didn't work very well at all, but I got some good minifigs. Some were nightmare fuel, but these I liked. With a little refinement, they'd be fun blind bags to collect.
Prompt: chicken lego minifigs, soft light, highly detailed, sharp focus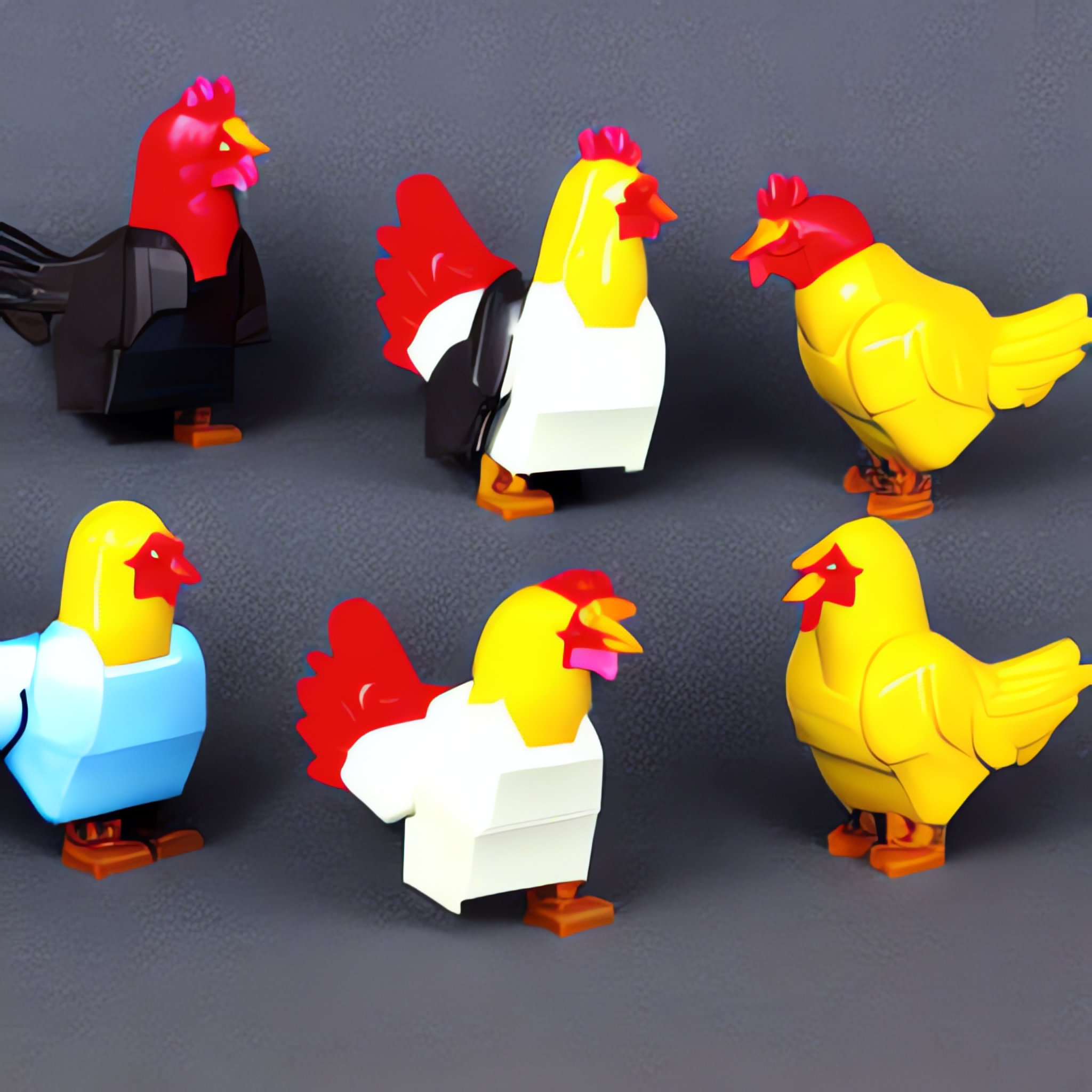 "An Obscure Indie Chicken Comic"
I really liked the vibe in this one, but I have no idea what's happening in the bottom-left. That's the funny thing about the AI images. You can get some amazing results, but you also get some strange missing parts, parts grafted onto each other, all kinds of nightmare fuel.
Prompt: marvel comic drawing of chickens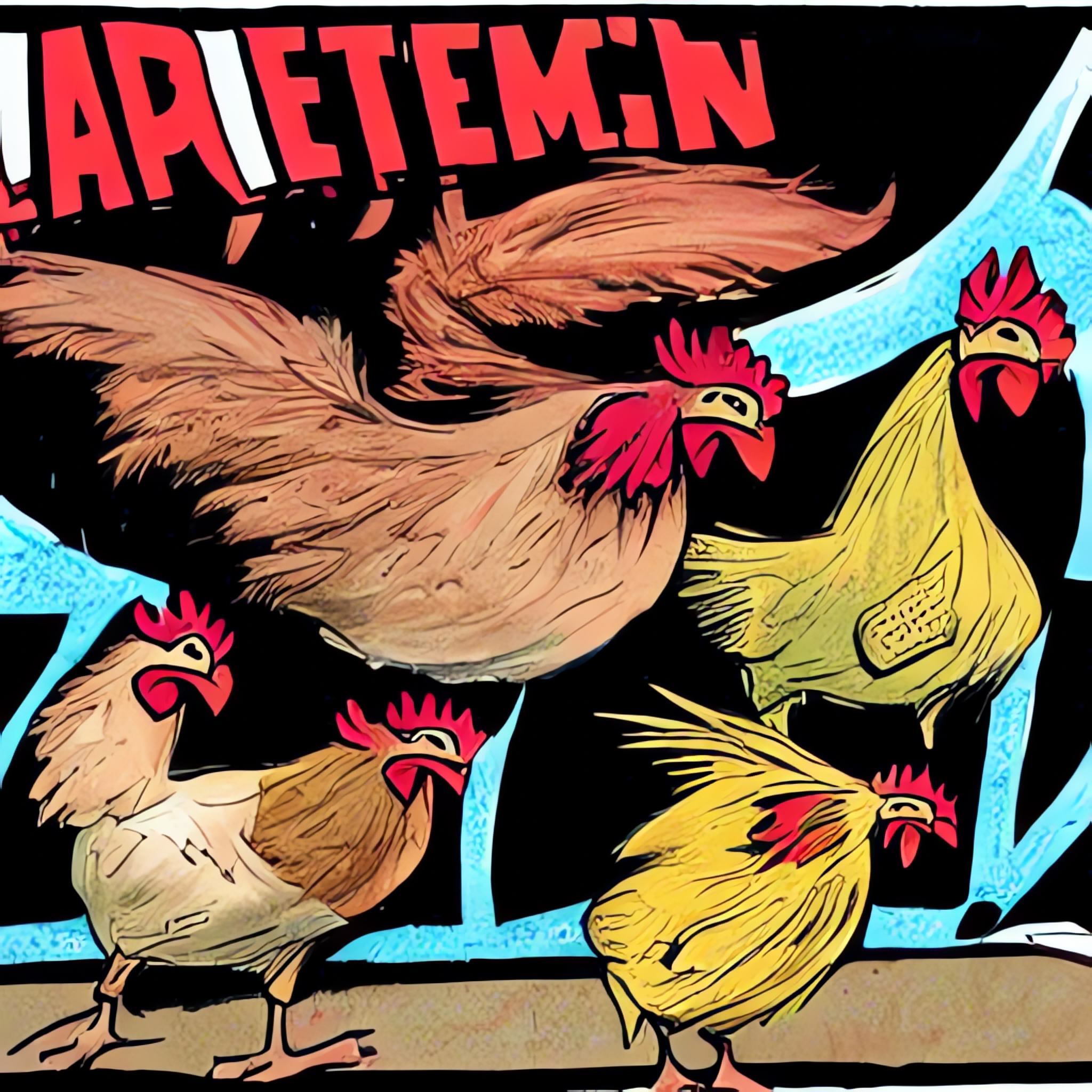 "Beginning an Adventure"
This one is reminiscent of Studio Ghibli films. I like to imagine this chicken's excited to begin her quest.
Prompt: anime illustration of chickens by a waterfall, studio ghibli, highly detailed, mystery, caves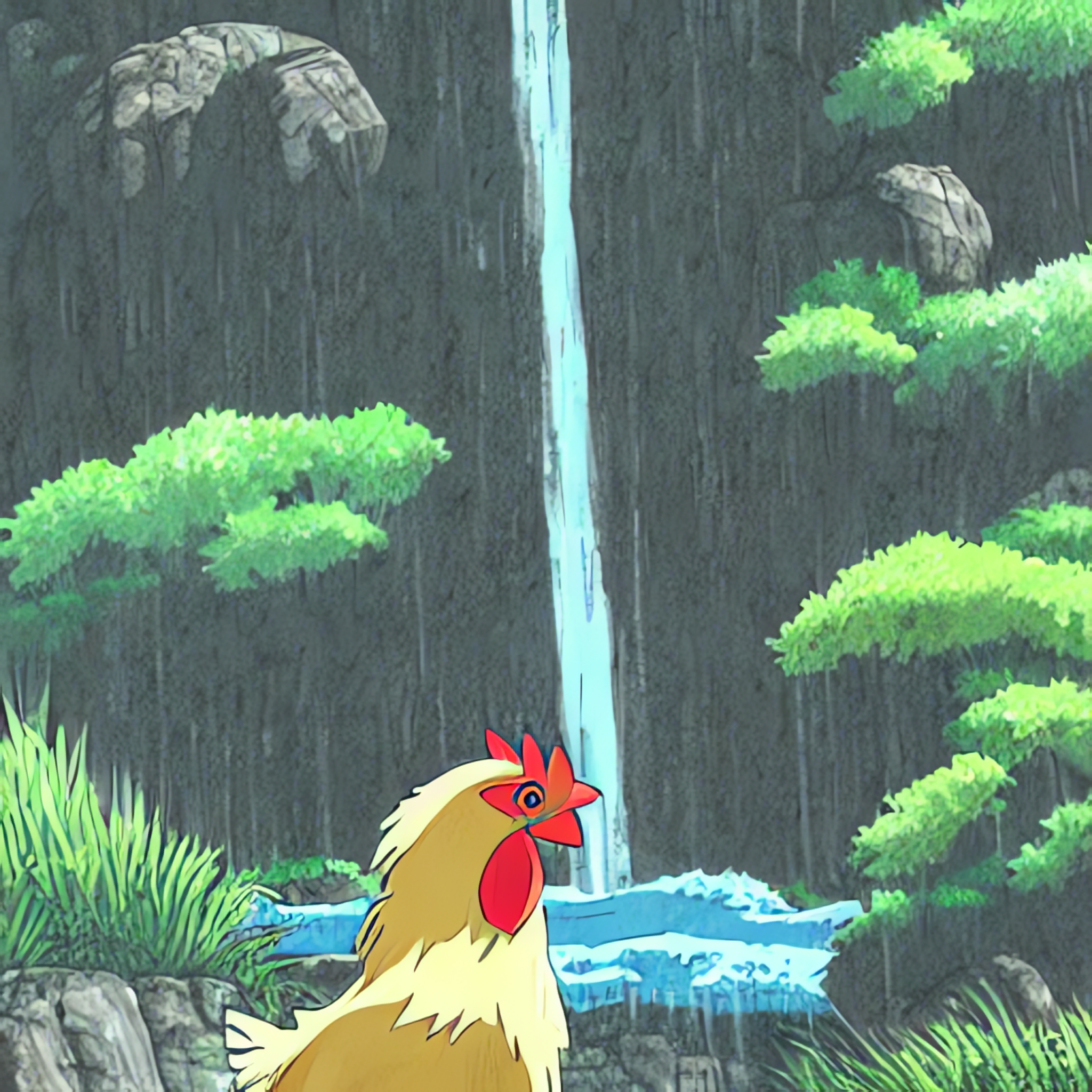 "Rubber Chickie, You're the One"
This wasn't what I was aiming for in the prompt, but I like how this turned out. Where can I buy these?
Prompt: chicken rubber ducks in a swimming pool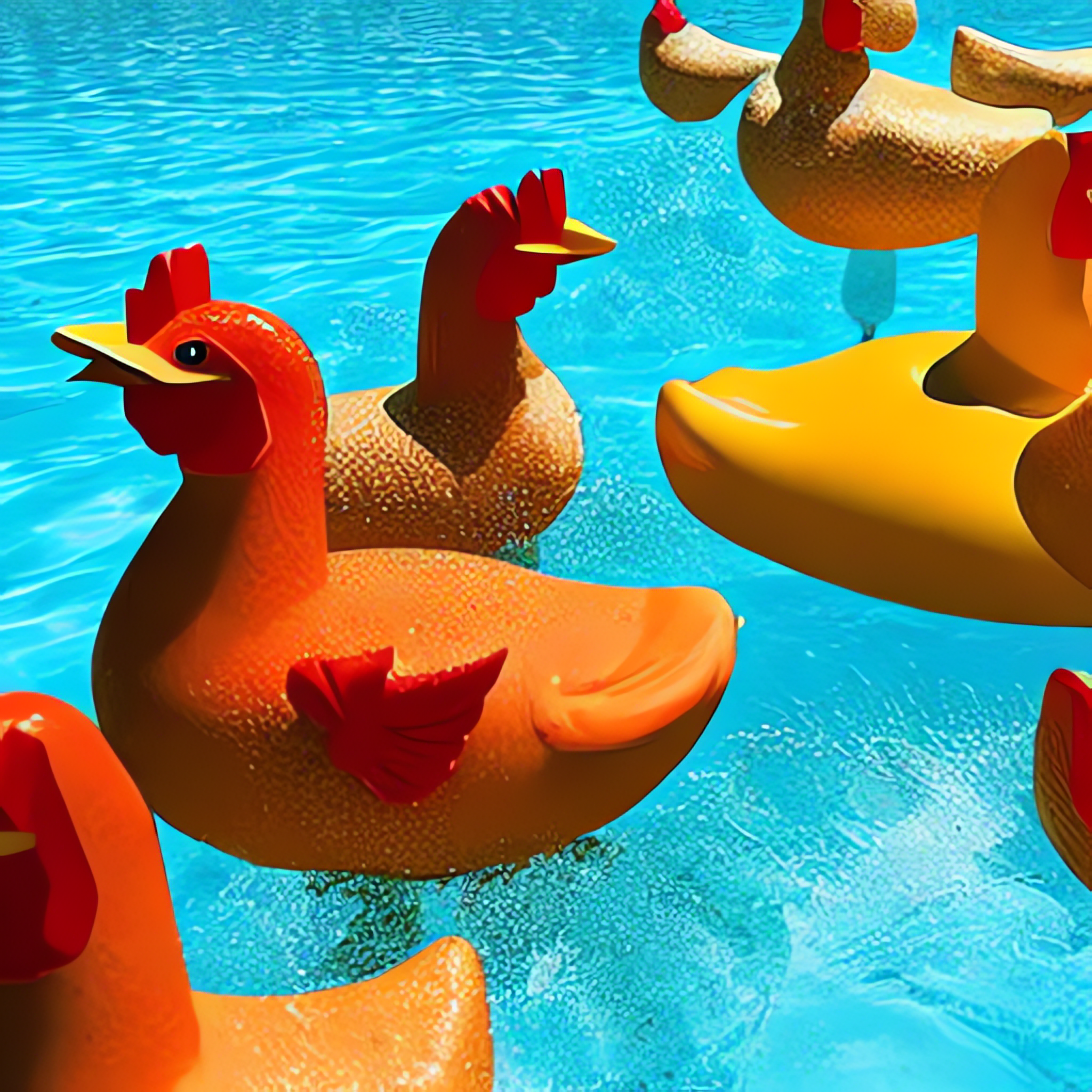 "Robot Chicken / Birds Aren't Real"
I got a lot of really interesting robot pieces. These were the two I really liked.
Prompt: steampunk mechanical chicken robot, insanely detailed, sharp focus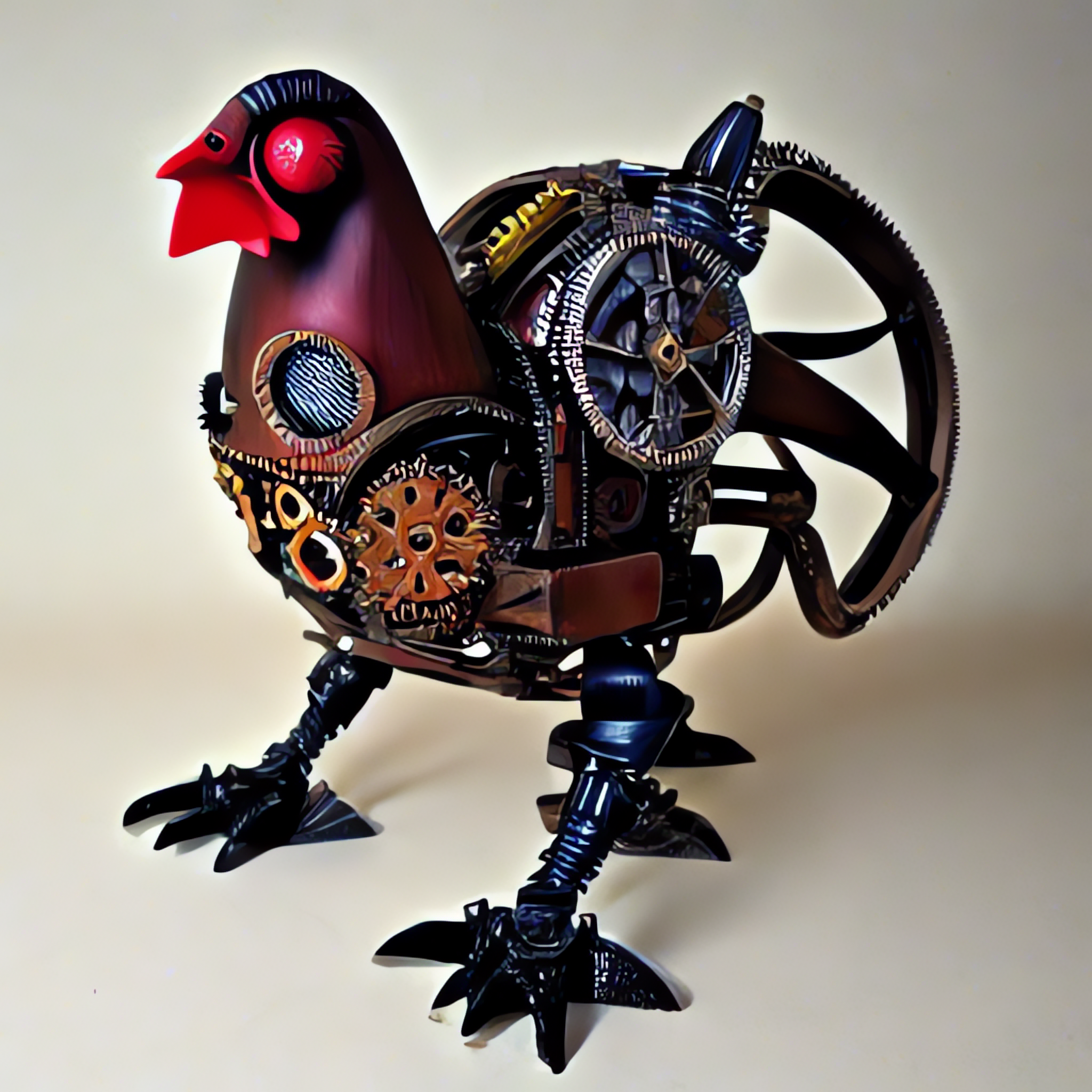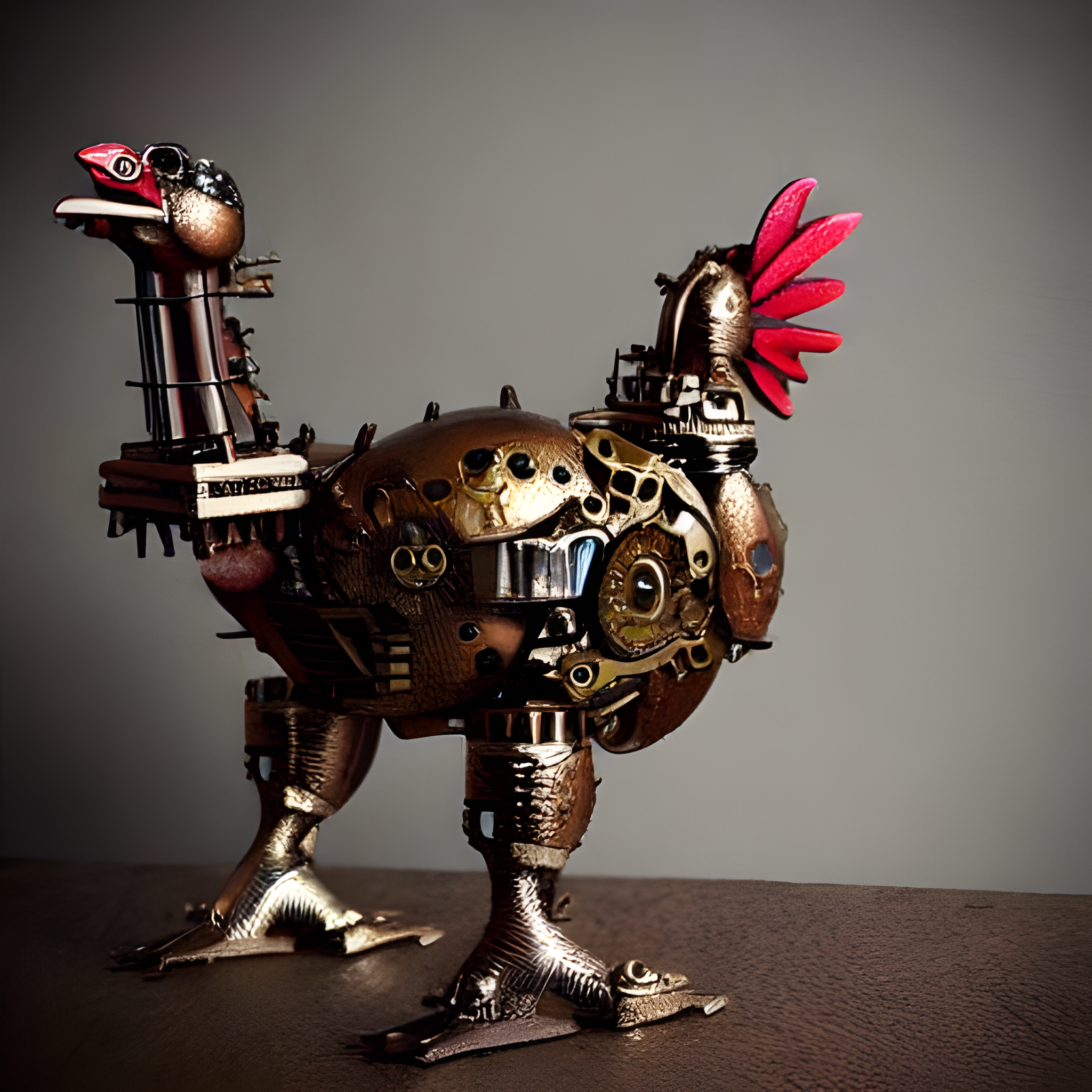 "Robot Chicken Anime?"
I tried to get some anime versions of robots and chickens. They were all a variation on a theme of red robots. This wasn't at all what I expected, but it was so weird I had to keep it.
Prompt: anime chicken fighting a giant robot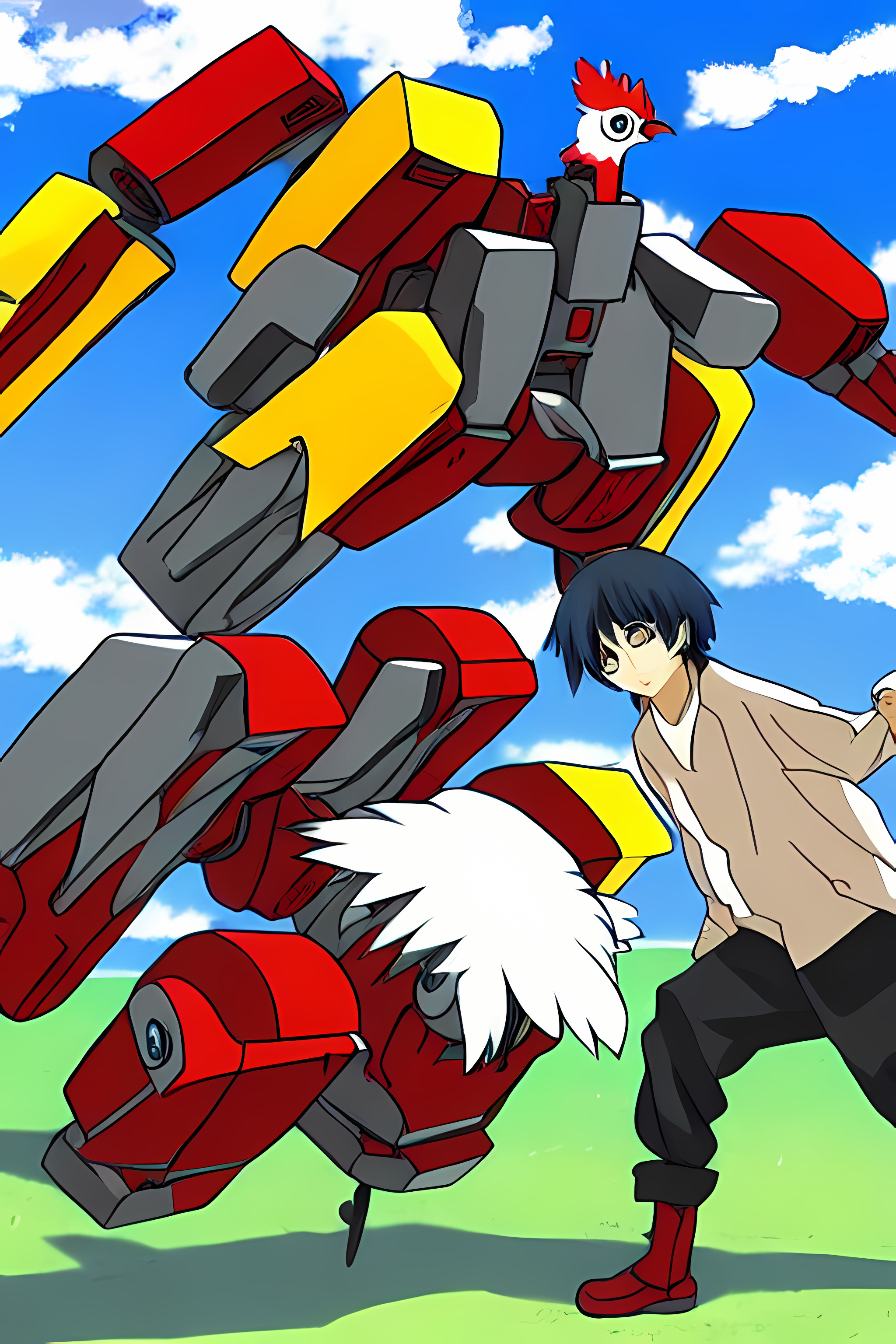 "Cluck Like An Egyptian"
Got some weird stuff with this prompt. Most of it wasn't great, but I liked this one. Did you know that ancient Egyptian chickens had 4 legs? Neither did I!
Prompt: egyptian drawing of chickens, hieroglyphics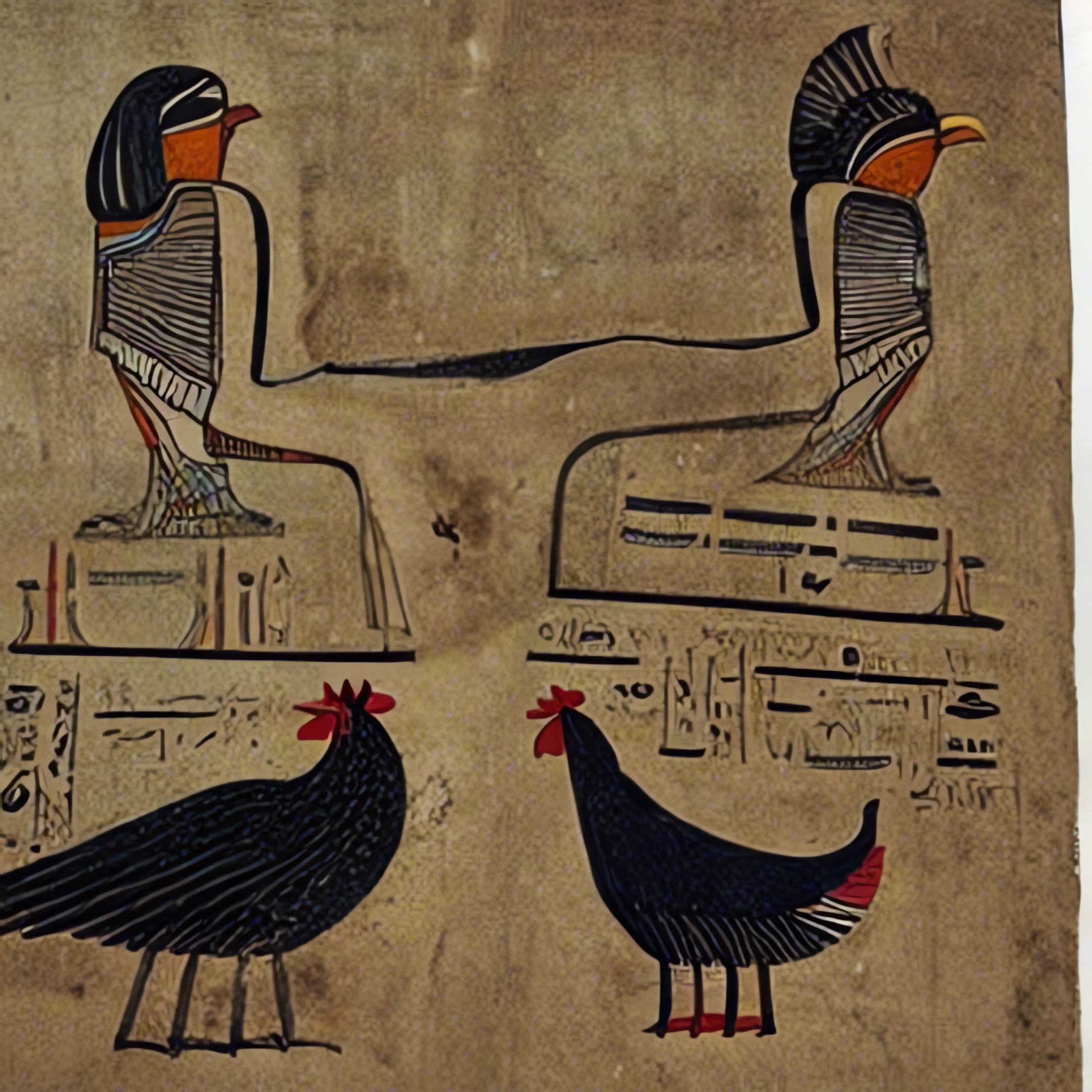 "If I Fits, I Sits"
I had a surprisingly hard time getting chickens in baskets the way I wanted, and then this adorable puddle of a chicken appeared. It was too cute.
Prompt: cute clay chicken in an easter basket with colorful eggs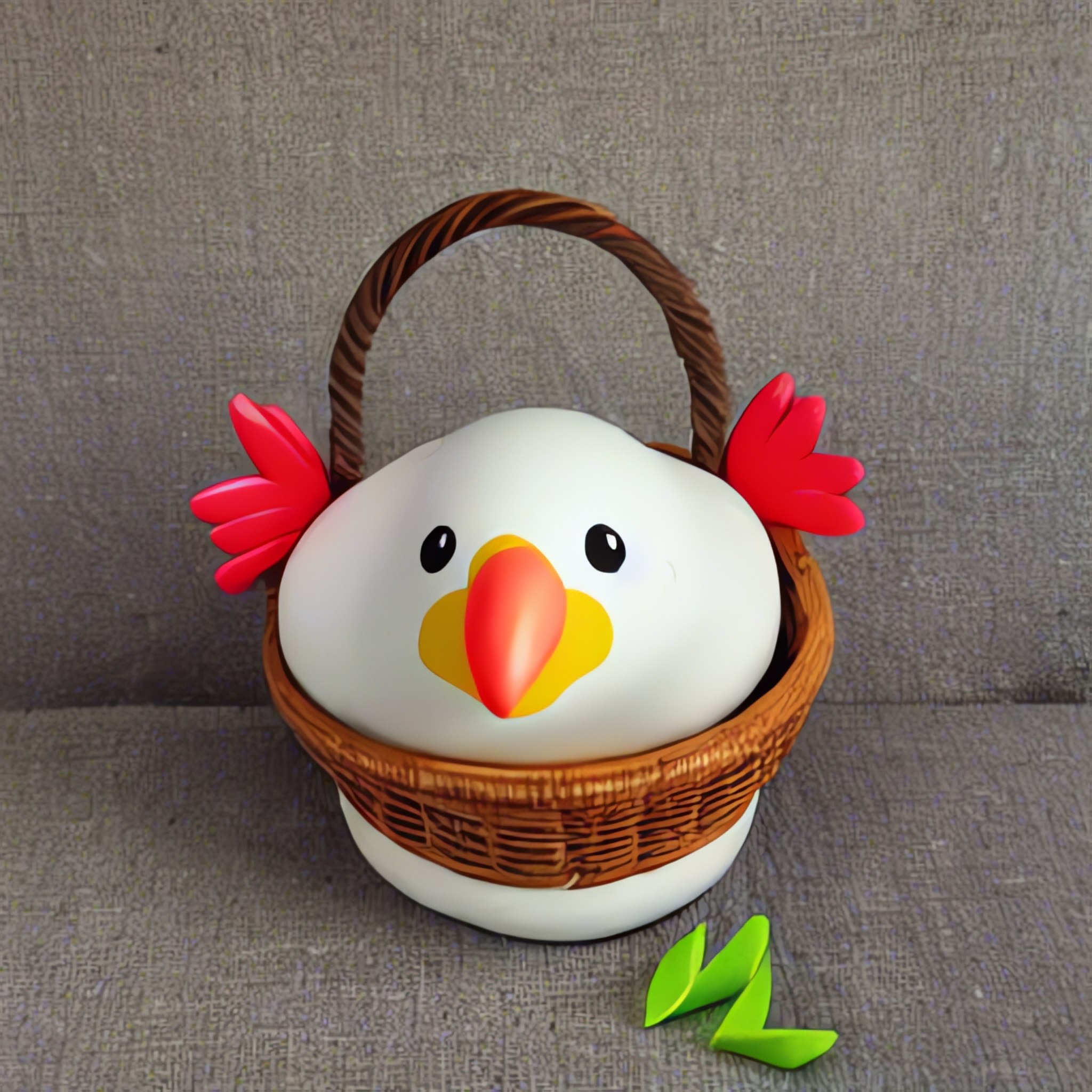 "Horizon Chicken Dawn"
How about some Horizon Zero Dawn with Alloy riding a giant chicken? I'd play this.
Prompt: drawing of horizon zero dawn with giant chicken robots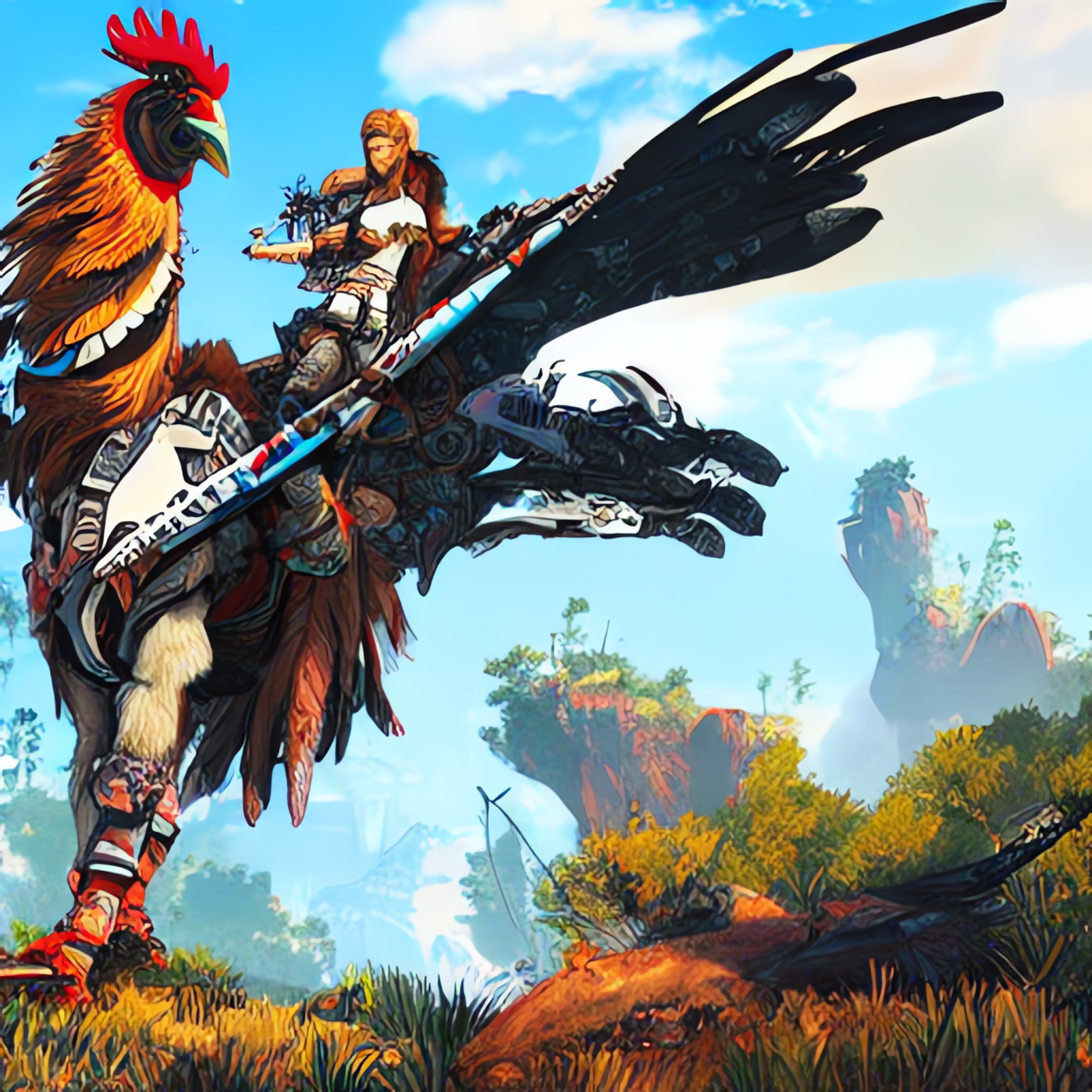 "I Like Warm Hugs!"
My goal was to get a clean ice sculpture of a chicken. It didn't happen. I got ice sculptures, but nothing pretty to look at. Sometimes it got confused with snow. I was quite happy with this one, though.
Prompt: sculpture of cute chicken made of ice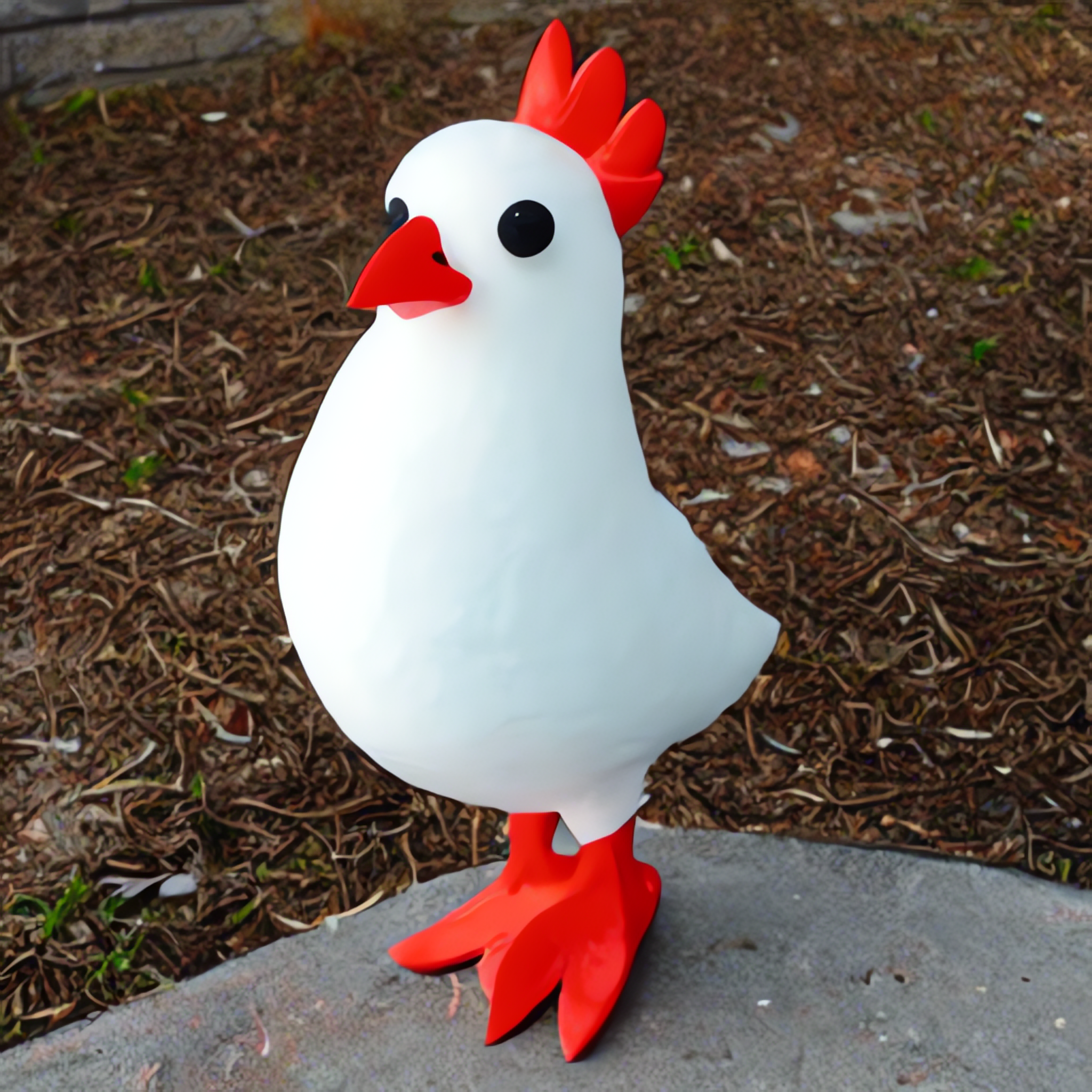 "I'm All In!"
I managed to get quite a lot sketch drawings of poker games, but few of the beings around it resembled chickens. This one was the best of them, but even here you can see that parts aren't exactly right. Still, I liked the vibe.
Prompt: black-and-white cartoon sketch of chickens sitting around a poker table playing poker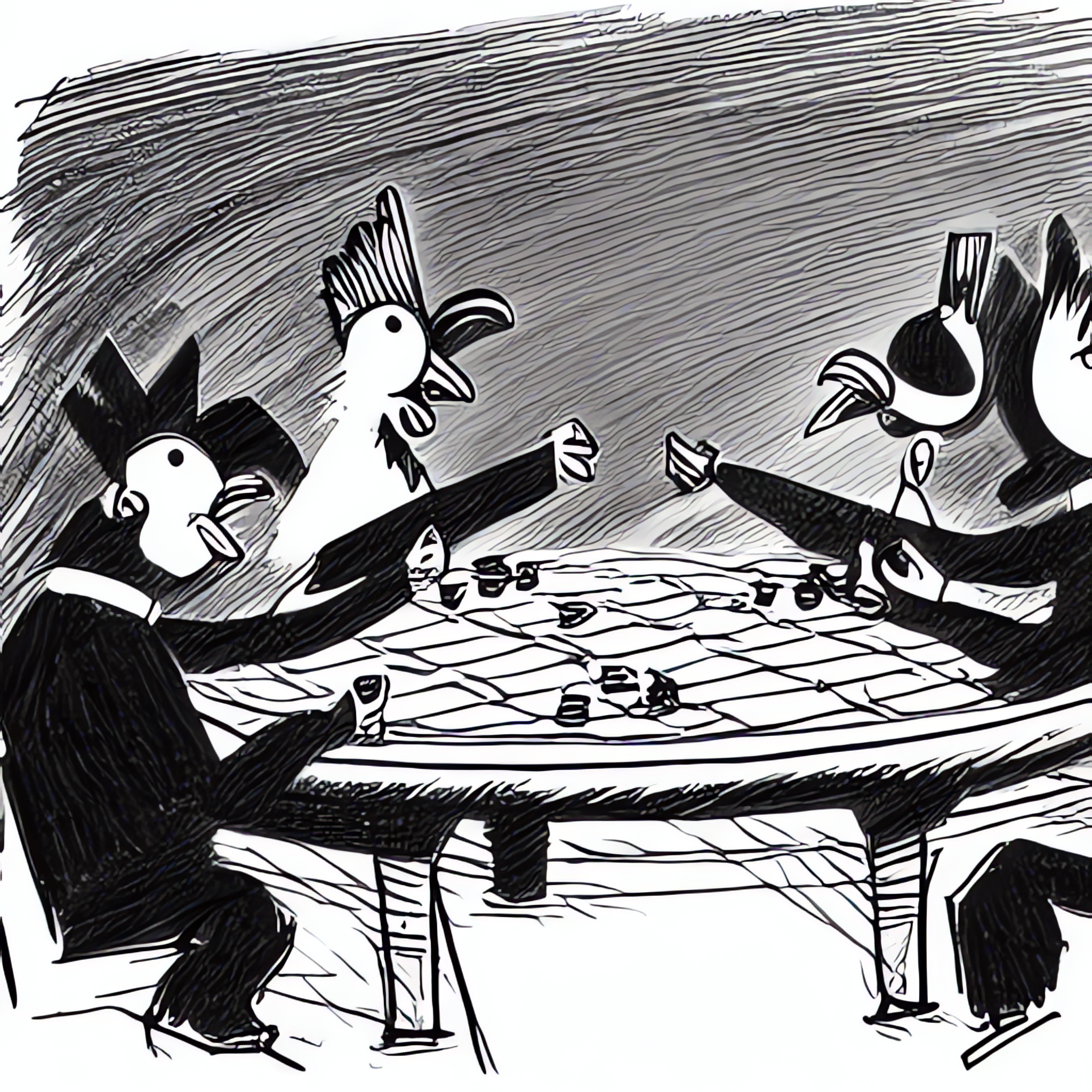 "All Alone in a Dark Forest"
If you want an image in a certain style, it helps to be explicit about the source of the artwork you're mentally aiming for. In this case, "Ori and the Blind Forest." I've noticed that Stable Diffusion tends to turn up pretty good "digital illustration" results, too.
Prompt: digital illustration of a chicken in a dark forest, twilight, ori and the blind forest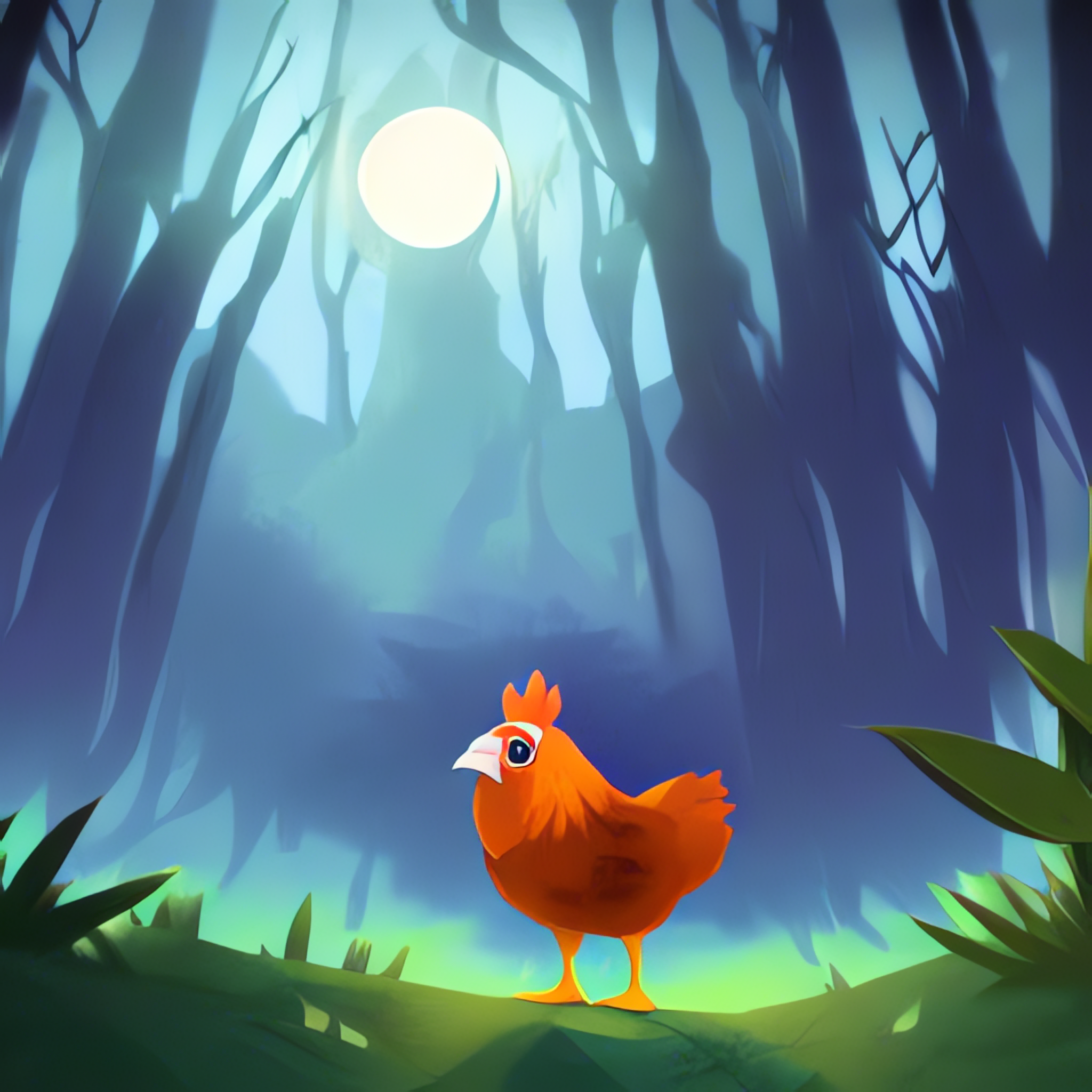 "More Scary Chicken Stories to Tell in the Dark"
Remember this book series? The stories were fine, but the drawings were traumatizing. A shared culture of terror instilled in so many. So I tried to reference it for some chicken drawings.
Prompt: charcoal sketch of scary monster chicken, scary stories to tell in the dark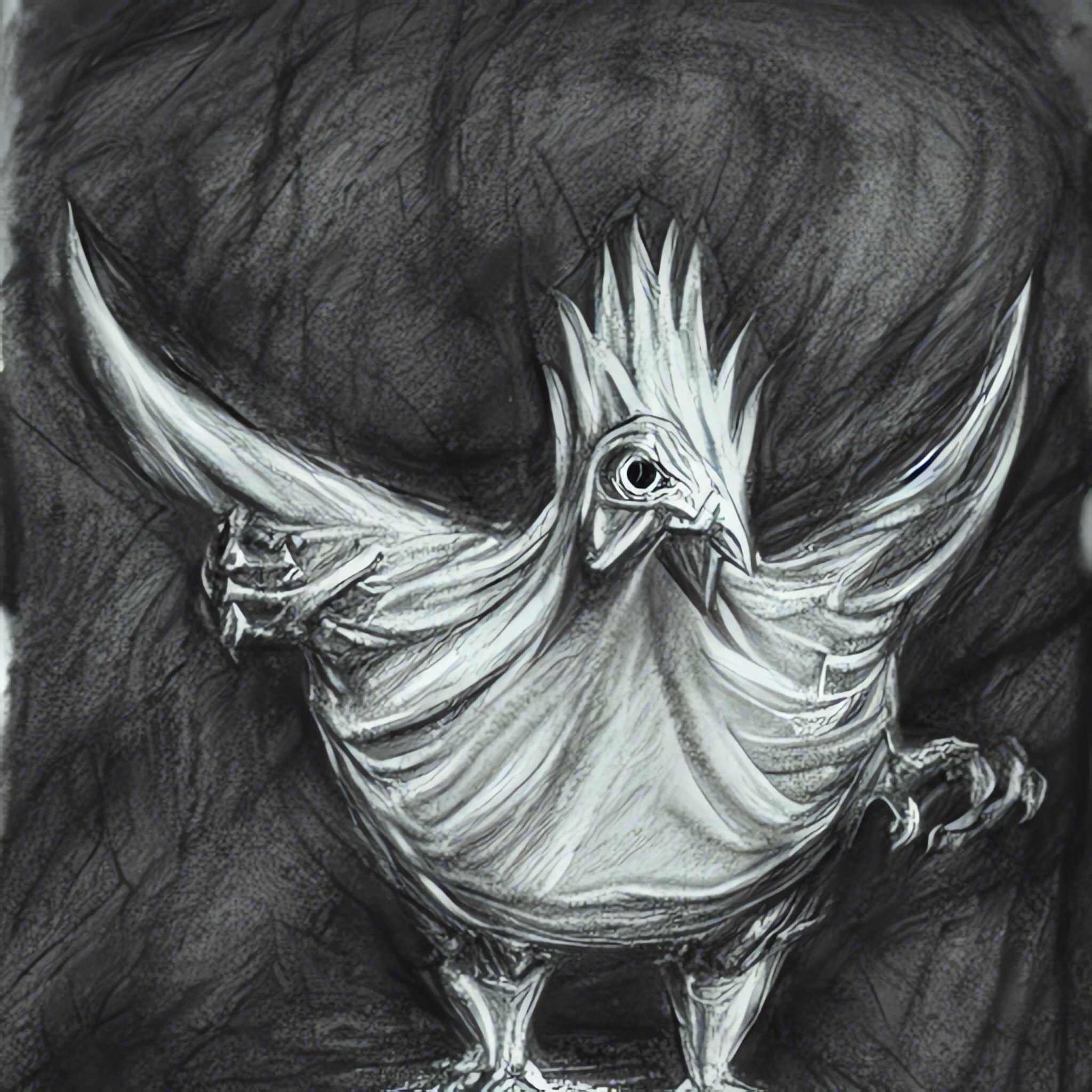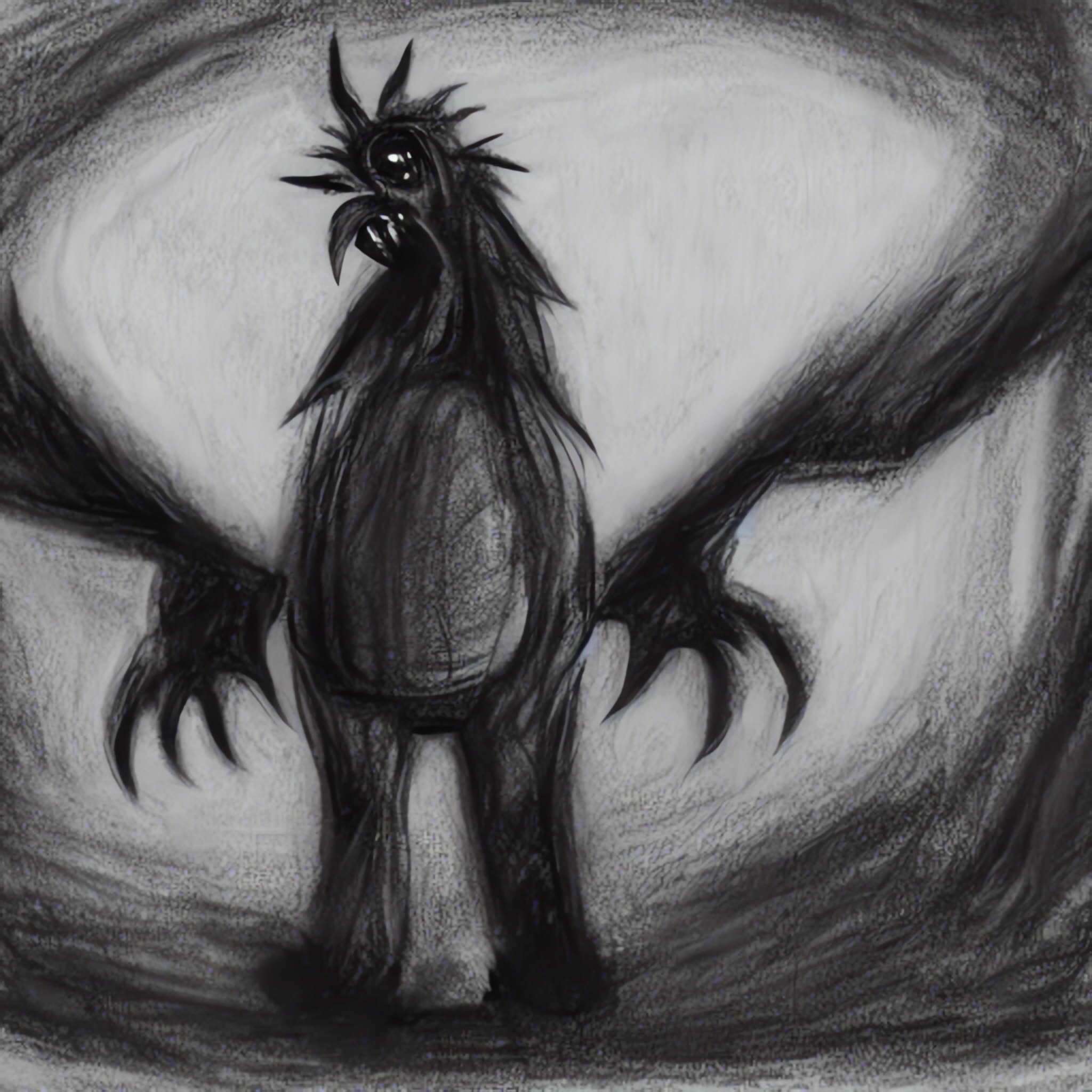 "It's a Small World After All"
I made probably 50 of these before getting the prompt right. So many of the chickens lacked heads. Oh well. Finally, after some tweaking, this image came out, and I loved it. Look how happy they are!
Prompt: high resolution photo of a miniature Disneyland with two cute chickens, soft light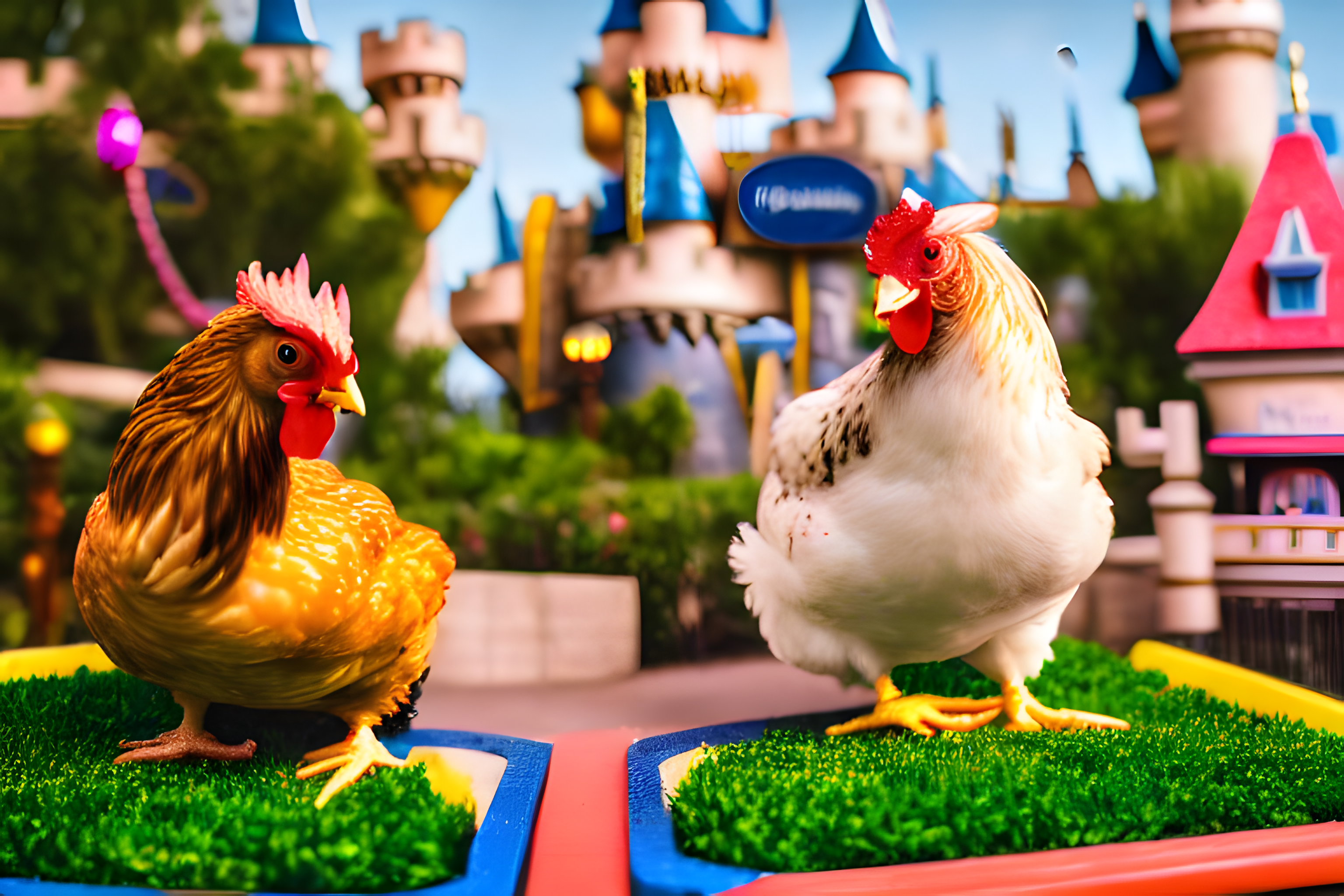 "Enjoying the Sunset"
I wanted to end this on a happy, warm note. A nice grassy field with flowers, soft light, a waterfall, and happy chickens.
Prompt: digital portrait of two chickens on a blanket on the side of a hill at sunset, mountain with waterfall, green grass, blue flowers, purple flowers, highly detailed, soft, smooth